Gohei-Mochi Yummy Pics
You probably heard of Mochi Rice Cakes which is the desert of Japan and being known for its chewiness of a texture.  But did you know there are different kinds of mochi?  One interesting type is from the areas of Tokei and Nagano, specifically the Gifu Prefecture.  This type is called the Gohei-Mochi and comes in different shapes as well have having different types of flavour. 
The most popular forms are the flat oval and ball styles which are both cooked/grilled on a stick similar to a chicken lollipop.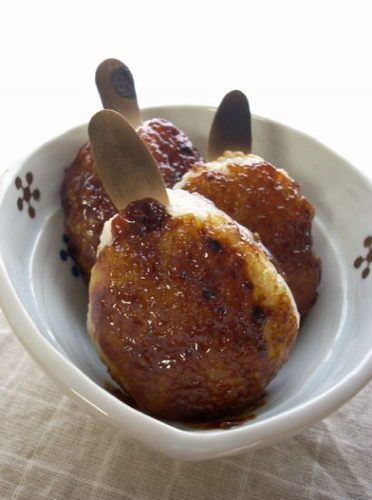 It is marinated and coated with a sauce mixture of various combinations of miso, soy sauce, sugar, miso and white sesame. 
Many have described the taste as being tremendous along with having a nice aromatic fragrance.