JAPADOGS...What?
JAPADOG is the new food craze sweeping North America, combining traditional Japanese tastes, flavors and ingredients with an iconic staple food of North America, the classic hot dog.  Created by an ambitious couple who relocated from Japan to Vancouver Canada with not much more than their love for culinary greatness and a dream, JAPADOG has slowly expanded their locations, gaining a cult following in the film and college-heavy town of Vancouver.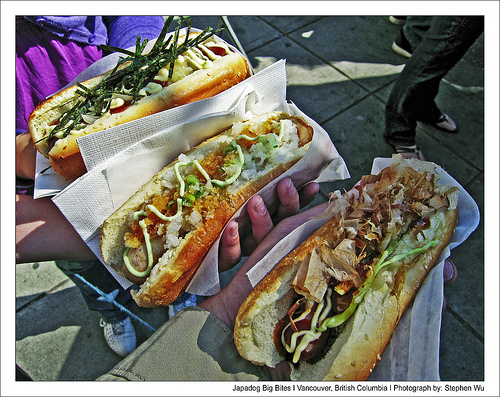 by stephenccwu
In January of 2012, JapaDog made their biggest stride to date, opening up a location in the heart of the food mecca of the United States: New York City.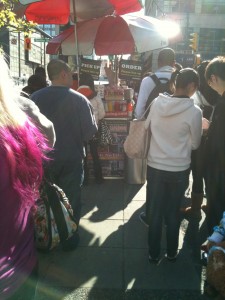 What Is A JAPADOG?
JAPADOGs are basically hot dogs cooked with Japanese style methods and then topped with traditional Japanese ingredients.  In short, it's the best of both worlds, combining the classic taste of the good-old fashioned hot dog with the traditional and unique flavorings of Japan.
What Kind of JAPADOGs are There?
When it comes to building a JAPADOG, the first step is to choose your meat from tasty choices like:
All-beef
Bratwurst
Turkey Smoke
Three-Cheese Smoky (Swiss, Cheddar and Havarti)
Arabiki (course ground pork)
Kurobuta Pork
Edamame
Veggie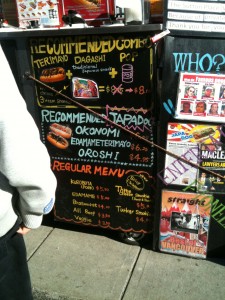 Then, it's time to choose from a variety of Japanese toppings.  While there are combinations which are very popular sellers (we suggest trying these first as the flavor combinations are all perfected to complement each other), you can mix and match your own toppings if you wish.  Here are some of the more popular toppings:
Teriyaki sauce, Japanese mayo and seaweed
Freshly grated daikon with a special soya sauce
Miso sauce, topped with shredded cabbage
Flavored rice, and BBQ style beef
Deep fried pork cutlet marinated in tonkatsu sauce with fresh cabbage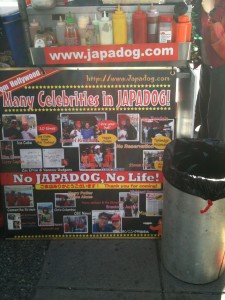 Where Can I Get A JapaDog? As of right now, the only places you can get a JAPADOG are in Vancouver and New York City, but look for that to change soon.  For more information on the JAPADOG company and menu, check out www.japadog.com