Miso? Miso Soup? Instant Miso Soup?
You may have seen miso flavored soups in your local grocery store. But what is Miso? Miso is a seasoning that is made from fermenting rice, barley or soy beans.
Miso is known to most North Americans as a type of soup, but in Japanese cooking it is also a flexible ingredient that is used for sauces(shabu shabu sesame seed dipping sauce), spreads, pickling vegetables or marinating meat.
Miso can also have many different tastes, which depends on the temperature, how long the fermentation process lasted, amount of salt added, and the fermenting vessel. The seasoning can be anything from salty, sweet, and earthy, to fruity or savory.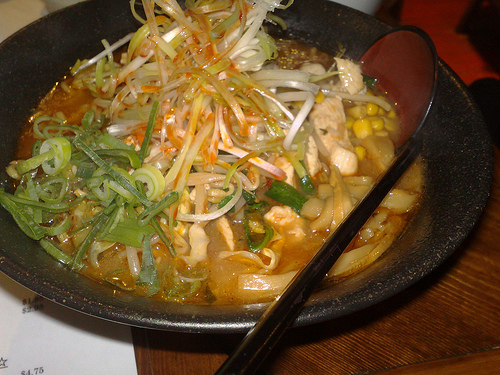 by roland - Spicy Miso Ramen
The Different Types of Miso
1. Red Miso (akamiso)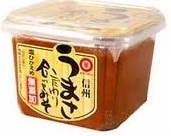 Known for being the saltier of the Misos - making it perfect for marinating meats such as chicken and vegetables in stir fry.  This type of miso is made from soy beans (few years fermentation), rice and barley.  It also has the highest protein content of all the miso.
2. White Miso (shiromiso)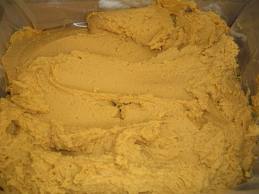 White Miso is made of soy beans and white rice but with a higher ratio of white rice which gives it the "white" color, or sometimes beige.  It has a much sweeter flavor and is used in soups, salad dressing, mayo and marinades for fish.
3. Mixed Miso (Red and White) (Awase Miso)
Awase Miso is used as an ingredient for other dishes and for vegetable soups.  The combination of the Red and White Miso gives Awase Miso a milder taste.
4. Barley Miso
Barley Miso is the cheapest kind of Miso you can get and is popular in Southern Japan.  A combination of barley (the dominant ingredient) and soy beans, gives this Miso a rich and salty taste.  It is dark in and rich in taste.  Barley Miso is used mainly for seasoning.
What is Miso Soup?
Miso soup is one of the most recognizable Japanese Foods in North America after Sushi and Tempura.  Miso soup is a combination of miso paste and a Japanese soup stock called dashi.  Dashi is simply a broth or fish stock (sardines, dried kelp, tuna, dried shitake). In North America vegetable stock (carrot, potato, daikon) is usually used to replace traditional broths.  Miso soup is almost always accompanied with tofu and wakame seaweed.  
Most would describe the taste of Miso as being slightly salty with an earthy feel.  They are many different variations of the soup so the flavors can greatly differ from one another  in terms of saltiness and sweetness.  If you are making Miso soup at home, follow our 5 tips on how to make Miso Soup taste Authentic article.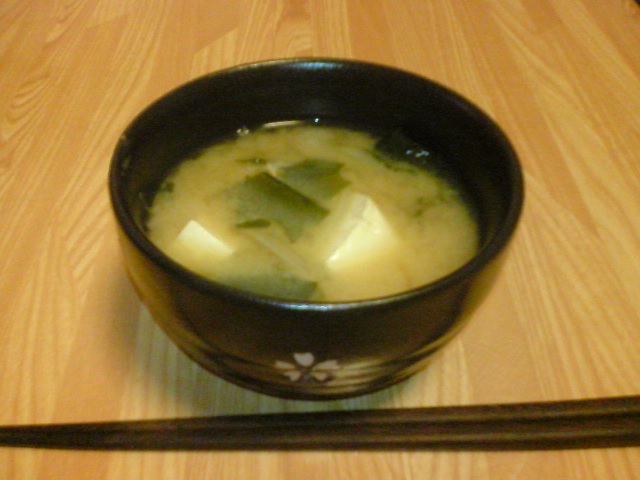 Instant Miso Soup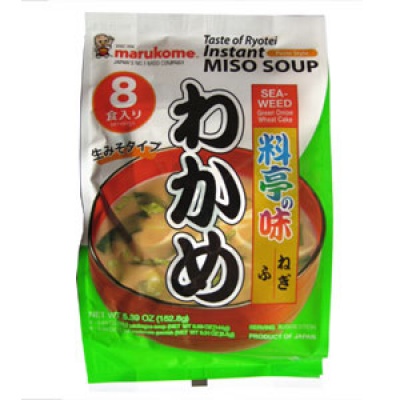 Instant miso is often sold in single serving packets. Chances are this is the kind of miso you've seen in your grocery store. This type of miso is made of wakame, tofu and soybeans, all of which is activated when hot water is added. You can find instant miso at many popular grocery store chains.
The 3 most popular brands are:
Most of these companies produce packets with no MSG and no GMO (Genetically modified organism), but make sure to double check the labels.  You may have to experiment with the different brands to find the right flavor for your palate as some may be saltier than others.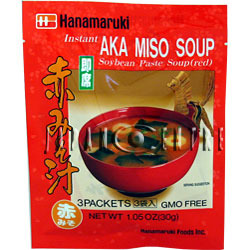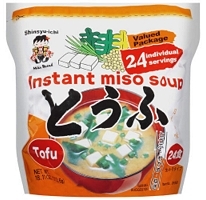 Miso also has many health benefits: It's a source of protein, is high in antioxidants, helps stimulate digestion, contains B vitamins, strengthens the blood, reduces risk for several types of cancer (breast, prostate, lung, colon), and boosts the immune system. If you want to expand your culinary palate, miso is a good place to start as its flavor varies from earthy to sweet, and to salty.