Plane Food is not Always Plain - Japan Airlines
Airplane food...enough said. It sucks, right? It's either bland, not hot enough, cold and shouldn't make it past airport security in the first place. North American airlines haven't done much to improve their culinary offerings (likely due to cost cutting).
However, it's a hard fact to swallow when their asian counterparts have stepped-up their game when it comes to catering to the customer. Take for instance Japan Airlines (JAL). I've sampled their food in economy class on more than one occasion...so I thought I'd try their Four Seasons Executive Class fare.
Greeted by name, you're given a menu from which to select your meal (Japanese or Western).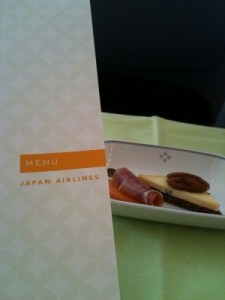 Japanese Western-Style Dessert are served on elegant little trollies with everything from gourmet ice cream, chocolate dainties and pastries galore. As for the beverages - the choices were plentiful and delivery was quick. There is even a "special menu" for people with food allergies etc...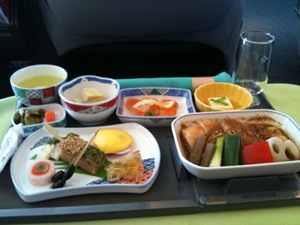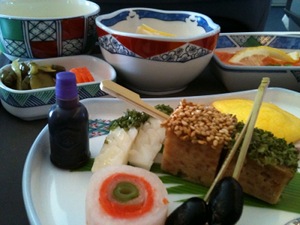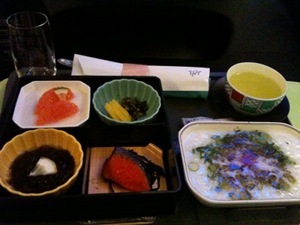 Supper. Again...a little bit of everything. No - I'm not a glutton...I'm a foodie! The menu is set up such that EVERYTHING comes to you...so you don't have to worry about picking and choosing. If you order Japanese (either breakfast, lunch or dinner) you get it all. Same goes for the Western menu.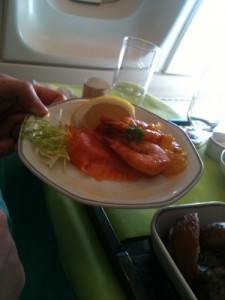 Upon arrival to Vancouver and Narita (Japan) International airport, the private Executive Class lounge felt more like a small luxury hotel. The Sakura "lounge" in Narita offered complimentary beverages, food, and private rooms to catch a quick nap or shower.