Is Teriyaki Sauce Really Healthy?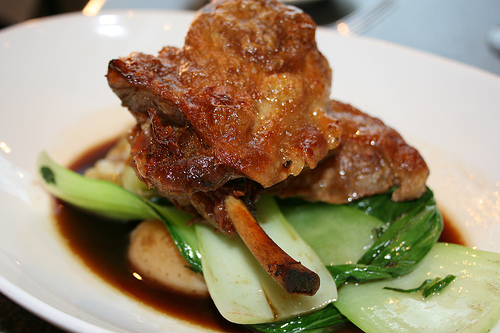 Asian fusion has become increasingly popular in the last ten years, and with that popularity came a surge in the use of Asian condiments: soy sauce, sesame oil, siracha, ginger, hoisin sauce, etc....
One of the more popular condiments is teriyaki sauce. It is sweet, thick and rich and goes well with meat and sea foods. What people don't know is that word Teriyaki describes acooking method, where food is grilled and is glazed with sauce several times. This sauce used in Teriyaki is called "tare," a mixture of honey or sugar,mirin or sake, and soy sauce.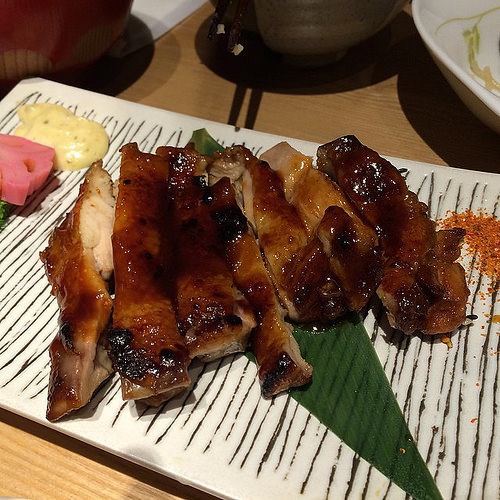 by coolinsights - Grilled chicken in teriyaki sauce
In North America, Teriyaki sauce is a common condiment, and the ingredients are slightly different from Tare. Store bought Teriyaki sauce is made without sake and have other ingredients such as garlic, brown sugar, fruit juices like orange or pineapple. The focus of this article is on the western-style Teriyaki Sauce. So back to our main question below!
What we are going to ask ourselves today is "Is teriyaki sauce healthy." Sure it tastes really good, but is actually good for you? Let's see!
Big Tub - Soy Vay Veri Veri Teriyaki Sauce
Ingredients in Teriyaki Sauce and its Nutritional Value
Teriaki sauce is mainly made of soy sauce with spices, ginger, brown sugar, garlic and pineapple juice added for taste, which makes it a low-calorie sauce, especially when compared to creamier and richer sauces like barbecue sauce, ranch sauce, cheese sauce, etc. One tablespoon of teriyaki sauce has 17 calories, while one tablespoon of ranch sauce has a whopping 73!
However, the brown sugar and pineapple juice make the teriyaki sauce a very sugary condiment and thus high in carbohydrates. 75% of teriyaki sauce's calories come from carbs, which is a lot.
Teriyaki sauce is also very high in sodium, but it is low in saturated fats and cholesterol and a good source of iron (fights fatigue), magnesium (excellent for blood pressure) and phosphorous (good for your kidneys).
Overall, teriyaki sauce is not unhealthy, but it isn't a health food either: it has too much salt, sugar and carbs to be consider truly "healthy." However, when consumed in small amounts, it can easily fit into your daily macros (the macronutrients you have to eat everyday to stay healthy). We do not recommend that you cook with teriyaki sauce everyday, or use it as a dipping sauce often, but using it once or twice week, in small amounts, would not be harmful to your health.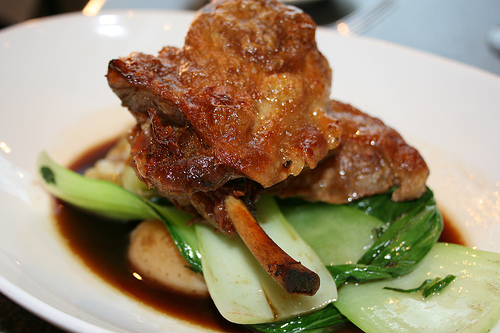 by Lil' DeeTwice cooked honey & soy farm duck, buerre bosch pears, pink eye potatoes, gingered bok choy & teriyaki sauce
Teriyaki Sauce Versus Soy Sauce
Teriyaki sauce is soy sauce's more complex and bolder cousin. As we have seen, teriyaki sauce is mainly made of soy sauce with other ingredients added for taste. There are two kinds of soy sauce: tamari, which is made from soy only and shoyu which is made from both soy and wheat. Both kinds of soy sauce are high in sodium (salt) but contain no sugar or juices and are much lower in carbs than teriyaki sauce.
Soy sauce is healthier than teriyaki sauce: it is simpler and less processed. It also a good source of many minerals such as iron, magnesium and manganese (good for bones and bone structure.) Although it is healthier than teriyaki sauce, soy sauce should be used sparingly because of its high sodium content.
Conclusion
Teriyaki sauce is not unhealthy but should be used in small amounts and not every day. It has numerous health benefits but these benefits hardly offsets the high sodium, sugar and carb contents of the sauce. It should also be said that teriyaki sauce is a much healthier choice than most sauces on the market: if you have to have sauce with your meal, go for teriyaki or soy sauce instead of the creamier sauces like BBQ sauce.