What are the popular menus at Japanese university cafeterias?
What are the popular menus at Japanese university cafeterias?
University cafeterias literally have the most famous meals in Japan and you will always find something that satisfies your cravings. What surprises more is how cheap everything is ! You wouldn't pay more than 500 yen for one meal at university cafeterias. Additionally They do not only serve Japanese traditional food as they serve pasta and so forth, however, why not see and try the popular meals ?
1. Udon
Udon is Japanese traditional noodles and cooked in the 'dashi' broth. I can say that I hardly see a Japanese university cafeteria without this menu. Amongst the cheap meals at a university cafeteria, Udon ranks in the cheaper range of lunch menus. It is served all year around as they have hot and cold Udon options.

Some common variations for Udon would be Kitsune(meaning fox in Japanese) ; that comes with a thick fried tofu, Tanuki (meaning raccoon in Japanese); that comes with tempura flakes and seaweed, or curry udon ! All very tasty and popular among Japanese people.
2. Ramen
Very quick and tasty ramen is served all around university cafeterias in Japan. There is always a long line in the Ramen corner. Ramen also has variations for soup and the typical options would be Shio (sault), Tonkotsu (pork broth), and Miso (miso broth). For some additional kick, you can be creative and add on Karaage(Japanese fried chicken) as your side.
3. Katsudon
This is one of Japanese traditional meals called Katsudon. It's a rice bowl topped with fried pork with scramble egg. The Katsu (pork) is cooked with flavorful Japanese dashi stock and it's nothing like the western meals. Some little note for you about this Katsudon, Katsu means Victory in Japanese so that Japanese people make this saying "Eat Katsudon before you are taking an exam or some sort of challenge" as to wish eating Katsudon give you a good luck.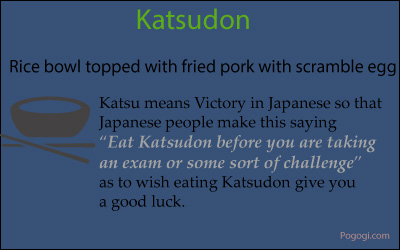 It doesn't necessarily mean that students eating Katsudon have some exams after lunch but it is always good to have some trick, isn't it?
4. Pasta
I don't know if it applies to people all around the world but it seems that girls like pasta a lot especially in Japan. Of course, Japanese university cafeterias serve western food as well such as Italian. The commonly seen options would be Carbonara or Meat Sauce (bolognese).
5. Hamburg steak
Hamburg steak is a patty of ground beef and usually served with rice at Japanese university cafeterias. The sauce adds Worcester sauce to the demiglace sauce balanced between flavor and sourness, gives a spicy feeling, complementing the deliciousness of the meat.
You can go into university cafeterias and enjoy your lunch as it is usually open to public. One meal is usually under 500 yen so this gives you an insight to Japanese university lifestyles and also Japanese meals for a very cheap price! Give it a try when you come visit Japan and experience the lively Japanese university atmosphere.
---
Author and Contributor: Kaede