Yakisoba Noodles And Worcestershire Sauce In A Bun?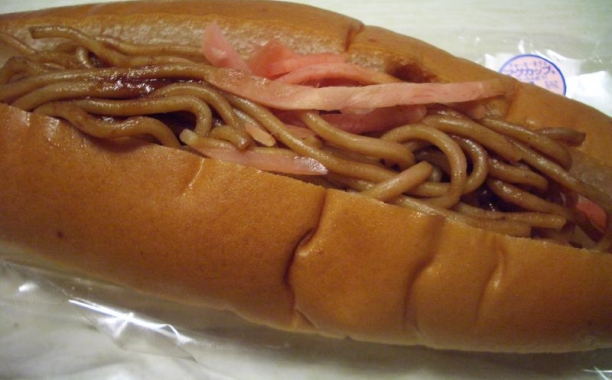 One of the most intriguing sandwiches in Japan has to be Yakisoba-Pan.  It is basically noodles(Yakisoba) in a subway style-bun with a combination of different ingredients, along with a Worcestershire type sauce (Japanese Style).
You can find these sandwiches throughout Japan in fast food aisle of supermarkets and mini marts.  Some of the popular ingredients that are used in these sandwiches are:
Carrots
Onion
Fried Eggs
Pork or Bacon
Pickled Ginger
Cabbage
Mung Bean (Bean Sprouts)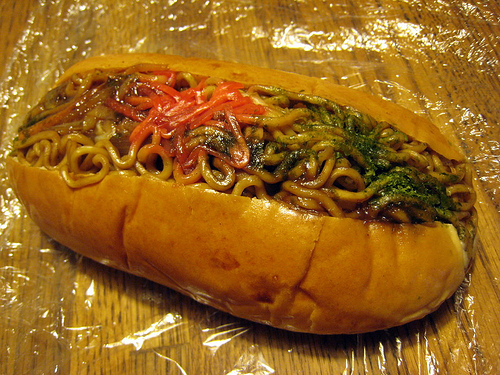 by goodiesfirst
Yakisoba Noodles and Chow Mein: The Connection
Yakisoba is made from wheat flour not buckwheat.  It is sort of similar to Ramen but instead the noodles are much thicker.  It originated from China where it is called Chow Mein.  It arrived some time during the early 1900s and the method of cooking is similar to that of Okonomayaki as both are cooked on a flat griddle.  
Some Quick Yakisoba (easy instructions)
It is quite quick to make a Yakisoba meal.  If you don't have these noodles you can actaully use any type of instant noodles, preferable Ramen.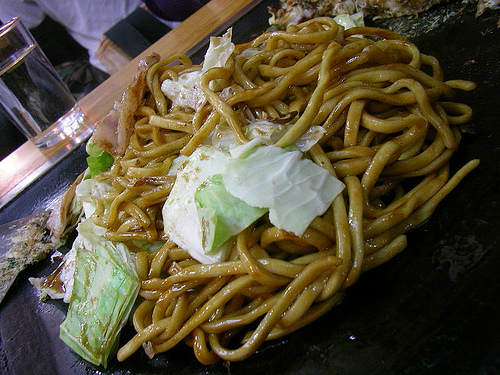 by jetalone
Step1(Prepare Noodles)
Use 4 packages of dry noodles. Boiled and cook.
Step 2(Meat and Onions)
Grab some pork(5-8 ounces) and slice them up into bite size.
Use a wok or a good pan, and start stir frying the pork along with one yellow onion(half of it and chopped).
Fry them up for 2 -3 minutes or until the pork is cooked(turned white).  Onions should be soft.  Set aside.
Step 3(Cabbages/Bean sprouts)
In the same pan, add cabbage(bite sized, 2 -6 ounces), or Bean sprouts(6 counces) or both.
Start stirring and then add some Worcestershire sauce(quarter cup) and some sake if you have some, about half a cup.
Stir for a minute or 2.
Step 4
Add the noodles and everything else into the pan. Mix it well for 2 minutes.
The liquid should disappeared and absorbed.  
Add spices to taste - black pepper.
*Note: We did not mentioned Okonomayki sauce since many don't have it readily available at home. If you do have it handy then add at the same time as the Sake and Worcestershire sauce.
image source: wiki