Yokohama Travels: 5 Things to Experience
If you're looking to immerse yourself in Japanese culture on your travels, Yokohama is certainly a good option. While it can be difficult to get used to the hustle and bustle, it soon becomes part of the appeal. In fact, as the second-largest city in Japan – behind Tokyo – it's very much expected.
If Yokohama appears on your travel itinerary, here are five things to experience while you're in this beautiful city.
Fun Fact - The newspaper "Japan Times" is planning to launch a showcase exhibition for their 120th anniversary (oldest English newspaper in Japan) birthday in this city.
Sankeien Garden
It's easy to assume that Sankeien Garden is going to be like any other garden in the world, but that couldn't be further from the truth. Aside from the fact it offers breathtaking beauty at every turn, it's also exceptionally big. Sankeien is a traditional Japanese garden in Naka Ward, Yokohama. Its rich history dates all the way back to 1906, and covers 44 acres of grounds.
From the ponds and streams dotting throughout, to the well-kept pathways, Sankei Memorial and historical buildings, there's much to love about this sanctuary. It even has inner and outer gardens for tourists and residents alike to enjoy.
Yokohama Chinatown
Chinatown has long been a hot spot for tourists and locals alike, but did you know Yokohama has the largest Chinatown in the world? With Kobe and Nagasaki's Chinatowns paling in comparison, it's clear to see there's much to be discovered when you meander through its streets.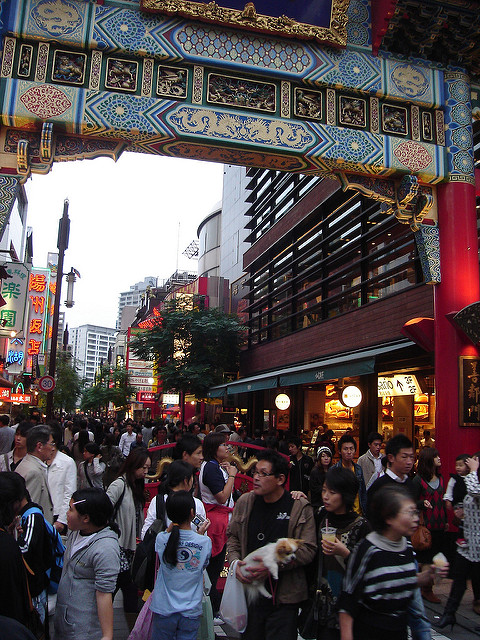 by mdid
It's also deemed that very few Chinese people actually live there – less than 4,000 in fact – but the Chinese shops and restaurants in the area amount to over 300. Many of these are centred within a 300 square metre radius.
If you're looking to buy gifts for family and friends back home, or you're simply looking to immerse yourself in Chinatown culture, Chinatown in Yokohama is the place to go.
Shomyoji
Whether you choose to visit the Shomyoji temple at night when the lights are shining brightly, or in the day time, you are sure to be blown away by its beauty. Off the beaten track and rarely visited by tourists, it's a must-see if you need a place to relax and gather your thoughts. It boasts a rich history dating back to 1260, and was rebuilt to its former glory after the 1923 Great Kanto earthquake.
Its location also meant it was very rarely the target of attacks during times of terror. This enabled historical artefacts to be preserved in the Kanazawa Bunko museum and library, along with its extensive historical literature.
Gyunabe
Gyunabe, or Sukiyaki as it's known in the west, is a popular Japanese one-pot meal. It consists of sliced beef simmered in a pan of sukiyaki sauce, along with mushrooms, bean curd, sliced onion and seasoning. It's then eaten directly from the pan, after it's been dipped in a bowl of raw egg.
Gyunabe is popular for many reasons. it's mild on the palate, yet caters to those who require deep and full-bodied meals, and it's easy to prepare and consume. Whether you're accustomed to Asian cuisine or not, you're sure to enjoy it – even if you choose to leave the raw egg out.
Naporitan
Naporitan, while seemingly different from most Asian cuisine, is exceptionally popular with both residents and tourists. It's a spaghetti dish featuring tomato sauce, onion, mushrooms, green pepper, tobacco sauce, sausage and bacon, and it's consumed across Japan. It's so popular that people can buy an instant form of Naporitan to enjoy on the run.
Whether you're planning on visiting Yokohama, or you're considering it in the future, be prepared to have the time of your life. You will experience culture, delicious food and attractions like no other.