2016 World's Best Airport For Food (tokyo And Osaka)
Here is a listing of the top 10 airports for eating courtesy of WorldAirportAwards.com.  You will notice 3 airports from Japan are located in the top ten at number 1, 5 and 8.
1.Tokyo Narita, 2.Hong Kong, 3. Singapore Changi, 4. Seoul Incheon,
5. Centrair Nagoya, 6. London Heathrow, 7. Vienna, 8. Osaka Kansai, 9. Munich, 10. Doha Hamad

Tokyo Narita
Narita Airport serves the greater area of Tokyo and handles over 50% of all the countries passengers internationally.  In Japan, it is only second in terms of passenger traffic to that of Haneda Airport, which is also located in Tokyo.  It is the main hub for Nippon Airways and Japan Airlines.
Narita has three terminals, were each terminal will have their selected restaurants and quick eateries, so you will have no issues in finding something to eat.  A majority of the restaurants are located in the central building on the fourth floor in terminal one.  You will find that many of the eateries in all terminals are in fact quite simple and fast.  If you have the time then try out some of the sushi restaurants such as Sushi Kyotatsu in Terminal 1 or Tatsu Sushi in Terminal 3. (For information on sushi, visit our database page)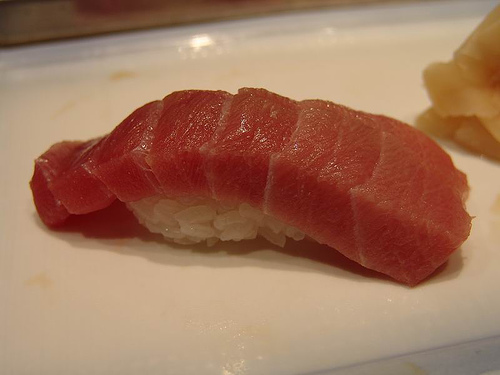 by nattokun - Terminal 1 Narita: Maguro Negi, Toro Don From Tsukiji Sushi-Iwa
Osaka Kansai Airport
This Airport is located in Osaka Bay and serve as a International Airport in the region.  What is interesting is that the airport was built on a artificial island.  It opened back in the early 90s to help relieve the overcrowding at the older Airport which is closer to the actual city of Osaka.  As mentioned from a reader a majority, many of the restaurants are located outside the security checks.  In terminal one you will find some great restaurants such as Tekkamaru which serves sushi on a conveyor belt.  This is of course if you have the time.  There is also a food if time is that of the essence or if you're looking for something cheaper than a sit in restaurant.
Nagoya Airport - Centrair
Like Osaka, this airport is located on an man-made island in the the Aichi Prefecture.  It is a first class international airport and you will find many types of restaurants such as Italian, French, Chinese, Korean, Fast Food, Take-Outs and of course, Japanese.  The Japanese restaurants in Centrair not only serves the standard national style but also the Nagoya-meshi style, a cooking style from the local people of the greater Nagoya region.