Japanese Knives - Miyabi Style
The town of Seki in Central Japan is known to be the nation's Knife-Making Capital where the quality of its knives are often compared to the ones made in Solingen, Germany. It all started with sword-making 800 years ago as master sword smith Motoshige has been scouting a place where he can find all the sword making essentials in one place.
He arrived at the foot of a hill along the Tsubo river, now modern day Seki City, where he saw mountain-fed waterways, timber for charcoal and a rich deposit of iron sand making it a perfect mix for making his craft.
He then crafted the first Katana in this iron-rich city and the rest is history. Since then, aside from producing fine swords, cutlery production has risen over the years and has become a major industry.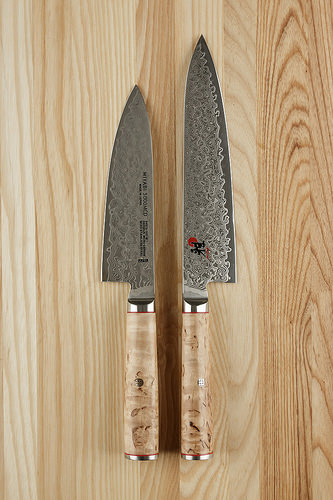 by Didriks - Miyabi Knives
One of Seki's highly-priced produce is Miyabi knives. Hand crafted using the finest quality steel and layered in an intricate fashion, Miyabi knives is one of the highest quality and most technologically advanced cutlery in the world. Giving you a good grip coupled with its evenly balanced weight, this knife has become an essential tool for professional chefs around the globe. You will appreciate the less effort you will exert in every slice you make and this is made possible through its very sharp blades.
Layers of Steel
Depending on the model, Miyabi knives are made up of several layers of folded steel. The central layer is made up of hard steel, but its hardness comes with a prize as it becomes brittle and easily broken. This is the reason why Miyabi knives are coated with layers of soft steel which has a flexible quality. So in every Miyabi knife, you can find two characteristics that are somehow ironic: Hard yet flexible.
Hardness
Several types of Miyabi knife posses' different levels of steel hardness. The hardness of the steel is based on the resistance to the indentation of the steel material and the unit is expressed as a number in the Rockwell C Scale or HRC. The higher the number, the harder the steel and is capable of having a sharper edge. Since most Miyabe knives have a high hardness rating, you also have to remember that it will take time to sharpen the blades.
7000 Model
Among the Miyabi knives, the 7000 MCD model is by far the most hardest and sharpest. Made up of 132 layers of steel giving you a hardness of 66 HRC on the Rockwell scale, you can easily slice every ingredient in the menu with little effort. You can even finely cut through paper using slow sideway hand motion. The only disadvantage with the 7000 MCD model is that the blade is short.
5000 Model
If you want to use a longer blade, the Miyabi 5000 MCD model is perfect for you. It is made up of 100 layers of steel giving a hardness of 63 HRC. You will feel the big difference in using this knife especially when the cutting process requires a longer time as you will spend less effort. This is made possible through its supremely balanced blades and comfort handling via its birchwood handle. The Miyabi 7000 D model is a similar knife with the 5000 MCD model, however it has a lesser steel hardness of 60 HRC made up from 65 layers of steel.
Miyabi knives are not just knives. They are a showmanship of the Japanese culture and superior craftsmanship closely resembling a fine Japanese sword. Now that we know the hardness and sharpness of this specialty knife made by Zwilling J.A. Henckels, you must keep Miyabi Knives out of children's reach.