Japanese Style Patio Experience in Kibune, Kyoto
If you are in the area of Kyoto and in the need of some patio food, then look no further than Kibune. Kibune is a village snuggled in a valley between mountains just north of Kyoto (one hour away). The village is known for being a summer escape with an abundant of beautiful forest, flowing rivers and Kwadoko.
What are Kwadoko?
Kwadoko are restaurants that are located alongside a river or sometimes almost floating over the waters. The village of Kibune along with the town of Kamogawa and Takao are known for this style of restaurant. The Kibune river has a calming serenity with smooth flowing cold water that emits beautiful freshness.
Hyoue Restaurant
A must experience is dining at Kwadoko on Kibune river. They are several restaurants to choose from, and one in particular called Hyoue(English website) has an amazing setting.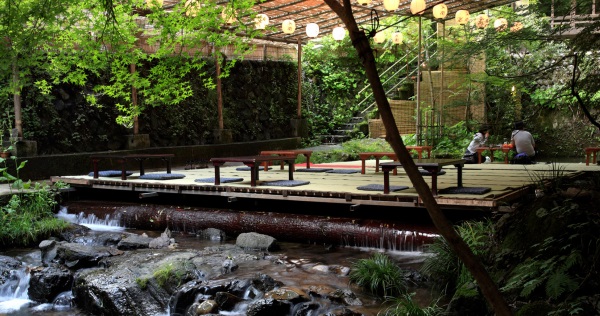 It is also an Inn and the prices at their restaurants are pretty high for the average traveler, but you have to take into account the scenery and the quality of the food served. The most expensive course cost is under 13000 yen, less than 105 dollars US. The other courses range from 6000 to 9800 yen.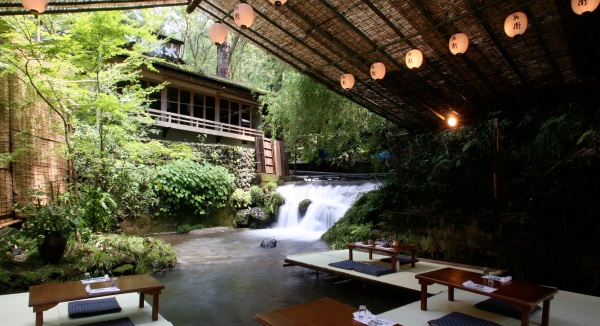 Hiroya Restaurant
A cheaper option in Kibune is Hiroya restaurant. The lunch meals cost around 3500 yen throughout May and June.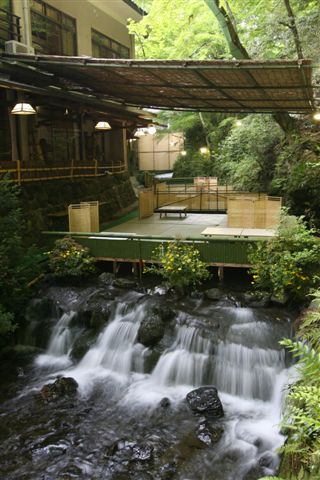 The food is apparently top notch based on reviews and it serves quality sashimi.