Mizuno: Okonomiyaki Adventure In Dotonburi, Osaka.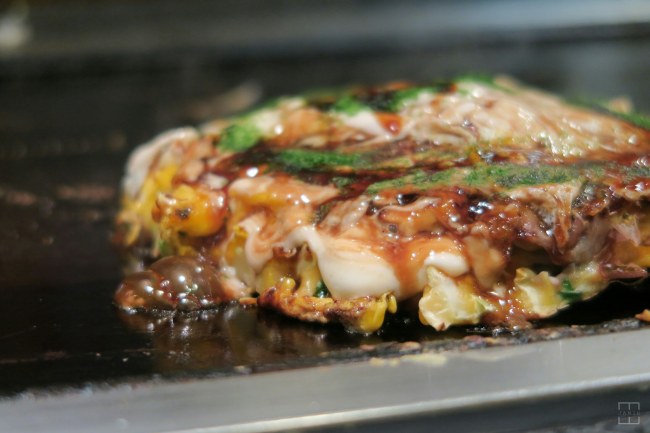 When in Osaka, you have to try takoyaki or okonomiyaki. It's what they are famous for!
One of the best places to try them out is Dotonbori. There's seriously no shortage of options to visit, watch them make it right before your eyes or try them out. With so many options, it can be a daunting task to decide, but my friend and I were tipped off by a fellow traveler during dinner on our first night in Osaka. We were eating at a small mom & pop gyoza shop in Dotonbori and a couple from the states happened to walk in. We exchanged stories on what to see, things to do and where to eat, which is why we decided to try okonomiyaki at Mizuno.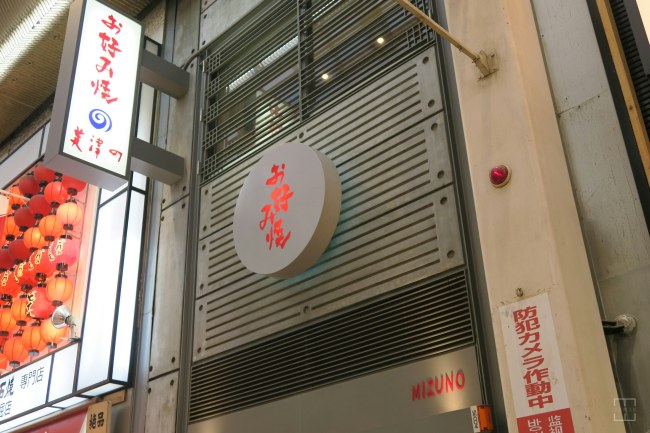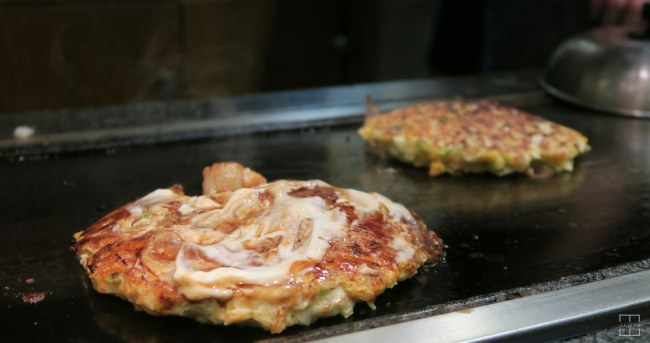 The couple mentioned that the place gets packed and there's usually a long line by dinner rush, so they recommended coming early. It was our last day in Osaka and we didn't have anything set in stone, so we spent the day exploring Shinsaibashi, which is similar to Dotonbori, but with a greater focus on fashion boutiques with a few cafes sprinkled between. All that walking worked up an appetite, so we headed back to Dotonbori for food.
We arrived quite early for dinner around 5pm and although the place had no line out front, it was already a packed house. The wait was a short 15 minutes in comparison to the hour that was mentioned to us by the couple. In the meantime, we were given menus to place our orders before we got seated. They have menus for Chinese, English and Japanese, which is very helpful, but also typical for popular tourist destinations. We watched other diners' selections and decided to go with a small variety.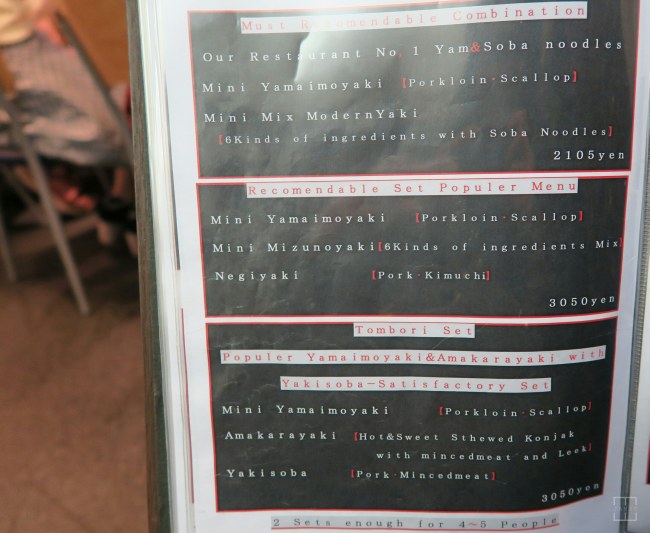 The menu is a very easy read. Because the spot is so popular, the first page shows their top 5 popular choices. Next page offers combination selections and then beverages. We decided to share the mini combination with three okonomiyakis: yamaimoyaki, mizunoyaki and negiyaki.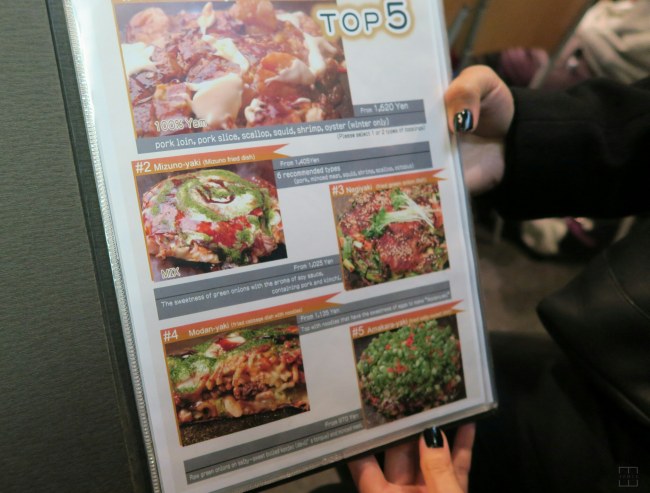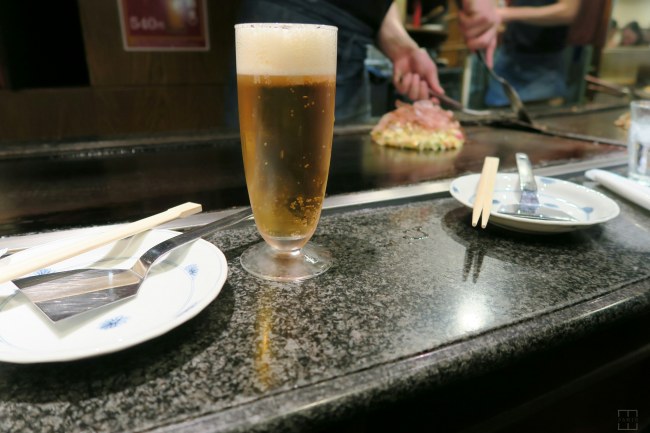 Mizuno seats at most 10 people at any given time and you sit directly in front of the grill. The grill bar wraps around the kitchen so you get a show plus an intimate experience with the chef and process. It's really amazing to watch! They first cook the meats (typically pork or seafood) to get a nice sear on them, then they pour the batter (mixture of cabbage, egg and seasonings) to piece everything together in a pancake shape. The finale is dependent on your preference for seasonings, but we said yes to all! When in Japan, try it all! Once the final touches are added, they just slide the pancake to you and you use the miniature spatulas to cut your piece from the grill.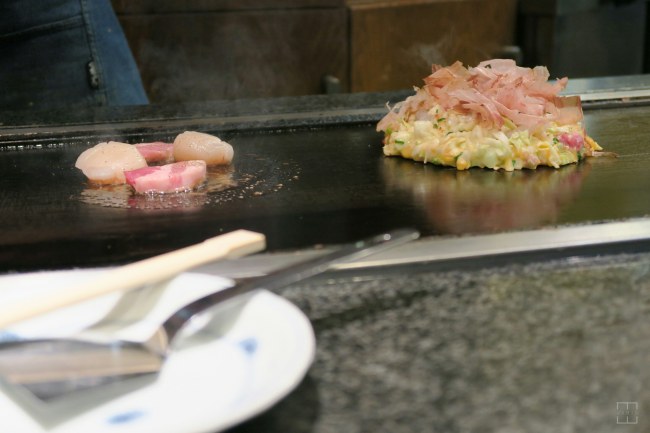 The first was yamaimoyaki with pork and scallops. Before we were seated, this was already in the process of getting made, but it seemed like a typical pancake.
The house special, Mizunoyaki, on the other hand, was a beast of its own. With a variation of ingredients like scallops, pork and shrimp, this one was bit heavier. Once the pancake was formed, they crack a fresh egg onto the grill and flip the pancake on top. If you're gonna try an okonomiyaki for your first time, I recommend this one.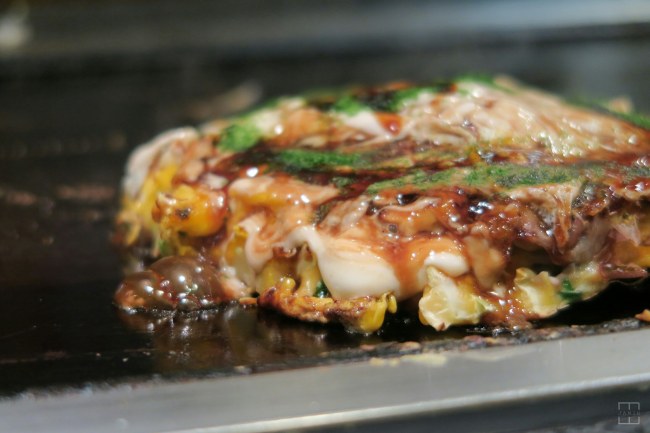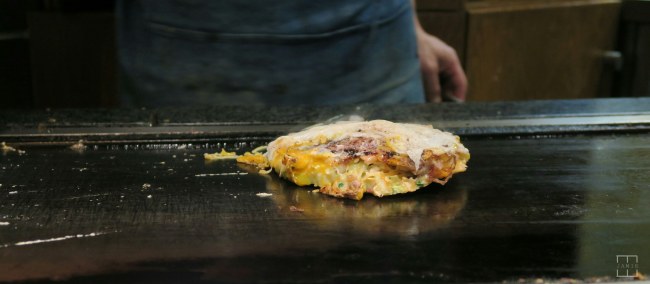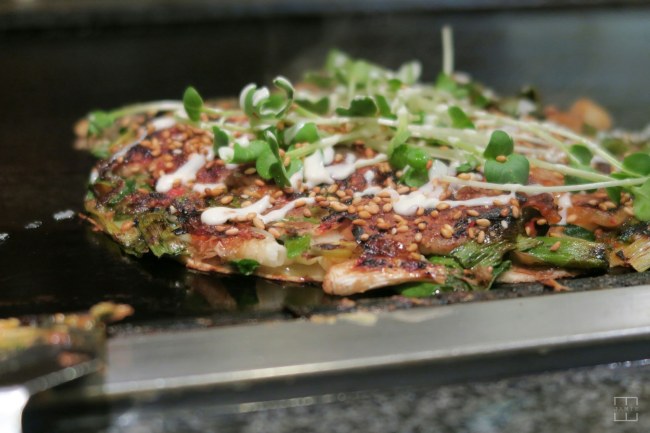 Last and lightest of the bunch was the negiyaki. Instead of a cabbage batter, the main ingredient was spring onion with pork and kimchi. Much thinner in comparison and we were so glad. We were ready to burst at the seams and the portions left us right at the full mark.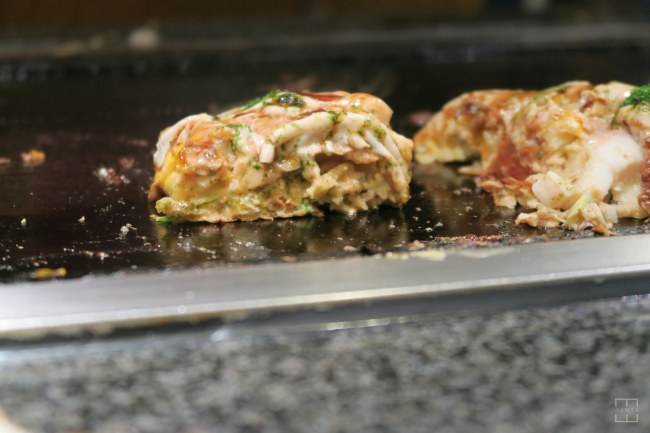 Overall, it was an experience not to be missed. If I had to find something comparable to the states, I would say teppanyaki, but in a much more intimate environment. Another thing to note is the speed of dining. The main difference between dining in Japan and dining in America is the sense of leisure and time spent in an establishment. Although we didn't feel rushed out, our dinner was about 30 – 45 minutes from beginning to end. The experience felt seamless and efficient for all parties involved. Once you're done, you just walk to the front to pay. With a no tip policy, you're in and out in a jiffy.
Mizuno is a spot worth checking out, but if you're looking for more local digs, ask the front desk of your accommodation or other travelers. Wherever you go, the experience is worth it. Enjoy!
---
Author and Contributor: Jamie Nguyen (MealsWithJamie)

"Always hungry. Web developer, craft beer enthusiast, adventurer and food blogger."
Visit her Website @  MealsWithJamie.com
Follow her on Social Media: