Sushi On The Seas - Part 2 Interview With Travis Kamiyama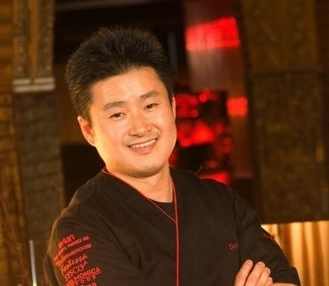 Sushi maestro Travis Kamiyama is only on the ship 2 weeks out of the entire year...and the timing couldn't have been better. Mr. Kamiyama is the Culinary Consultant for Allure of the Seas, Royal Caribbean's massive sailing city - the largest cruise ship on the planet.
To truly appreciate his passion and vision for what sushi(listing) and Japanese cuisine can be, you'll have to experience his masterpieces for yourself. Although he may not have a Michelin star or the infamy of Jiro Ono or Mizutani, Travis Kamiyama is the new generation of great sushi chefs; an exciting combination of old and new. To watch Travis in action is as exhilarating as the mouthwatering dishes he serves up. His skills are truly captivating. His manual dexterity and knife skills showcase his years of experience and expertise. This guy is fast... really fast. The speed and precision at which he moves is reminiscent of Iron Chef Masaharu Morimoto.
When asked about some of his frustrations serving up high quality fare on the high seas, it was the understandable restrictions placed upon him by the enormous logistics involved in running such a huge ship. Ironically, the freshness of the seafood (while fresh) is nothing compared to the freshness found on land. His philosophies on fusing traditional Japanese food & techniques with international ingredients is honestly, boldly, and tastefully displayed in his unique creations. He effortlessly blends east & west, demonstrating his knack for adapting to the growing and ever-changing world of food.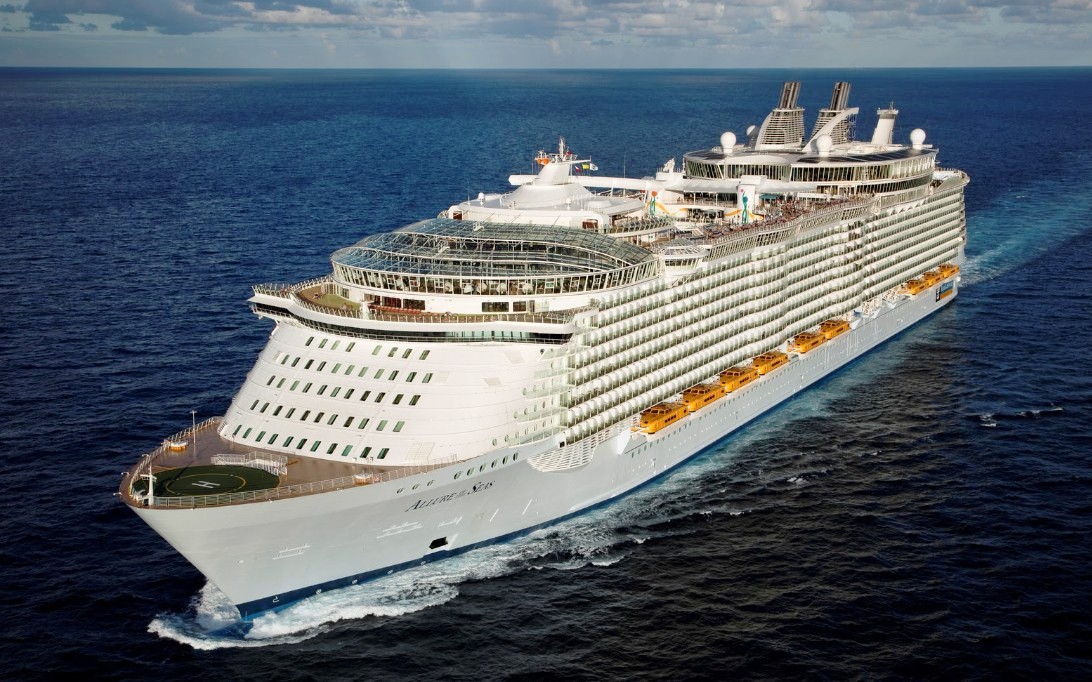 10 Questions with Travis Kamiyama
1. Tell us a bit about yourself and your background in Japanese food.  Training at age 14 under Japanese sushi and washoku chefs.
2. How did you end up in charge of the Izumi Japanese restaurant on the largest cruise ship in the world? Referral by Jacques Van Stadden of Celebrity Cruise Line (VP of Food & Beverage) in 2008. We had joint culinary venture in Las Vegas in 2005.
3. What are some of the challenges you face cooking Japanese food on such a large ship? Sourcing of authentic ingredients and Tsukiji-like fresh fish.
4. What are some of Izumi's most popular dishes? Tuna Wasabi Carpaccio, Champagne Lobster in Soy Paper, Spicy Crispy Shrimp
5. What's your approach to Japanese cuisine...traditional or fusion? Traditional as base with an infusion of latin and southeast asian flavors and spices.
6. How would you rate the quality of the sushi on the ship? Fair - comparable to some land-based restaurants - no live fish
7. What's your favourite Japanese restaurant back home? Jinya Ramen in Studio City
8. What's your favourite Japanese food? Washoku - grilled miso black cod,  brown rice and tsukemono pickles and home made awase miso
9. What are your future plans? Develop as an authority of Sushi/Asian concept developer and culinarian for various land and sea based operations.
10. What's your no. 1 cooking tool in the kitchen? My Masamoto Yanagiba
---
We were fortunate enough to have Travis cook up some unique dishes for us, giving us a taste of his truly remarkable talent.
Here are a few dishes served up exclusively for POGOGI by the man himself.
Tako carpaccio: Prepared with a bit of olive oil and other heavenly touches, this dish was luscious and buttery without masking the natural and mildly sweet flavour of the octopus. (below)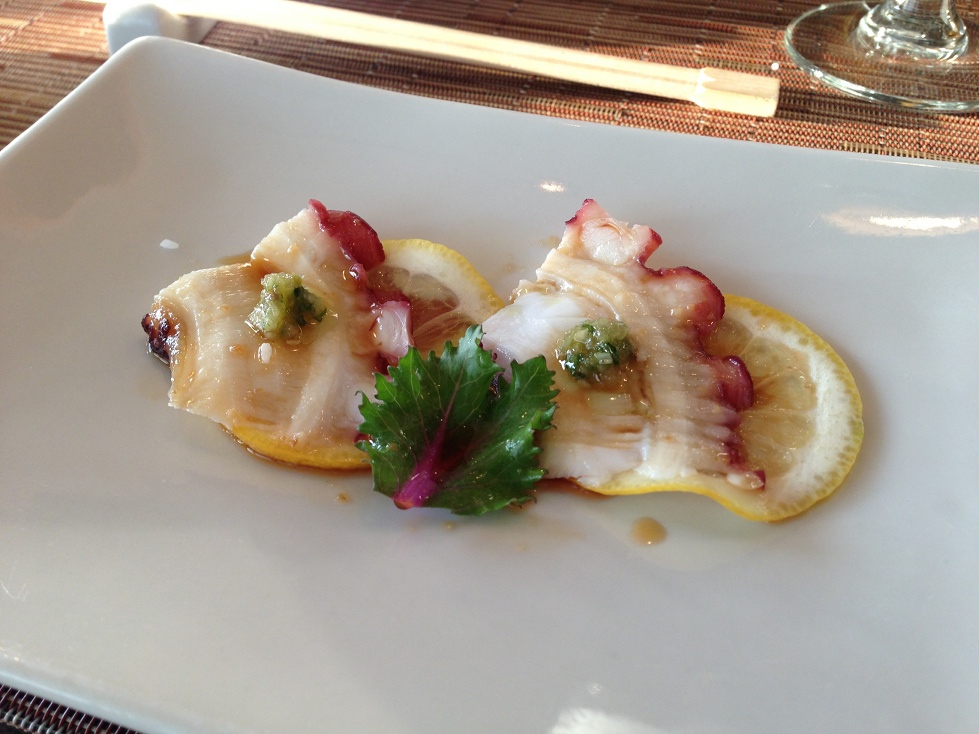 3 Fish Carpaccio: This dish was amazing. Take a closer look and you can see the creatively delicious garnishes. A roasted garlic chip, citrus zest, serrano chili pepper... subtle but noticeable. The physical and flavour proportions of the ingredients were perfect. Absolutely delicious. (below)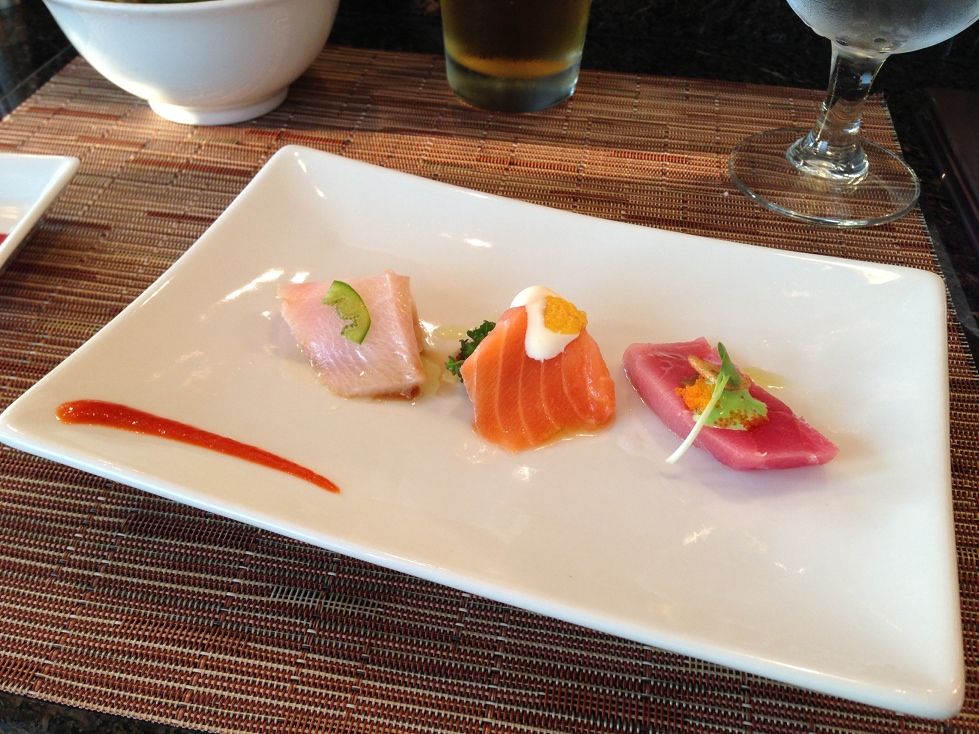 Hand rolls: No huge pipe-hitting cone rolls here... no, this was finesse and a demonstration of his artistic capabilities. Not only did the soy paper hand roll (the white one) offer a beautiful visual contrast, it enhanced the colours of its inner ingredients and tasted amazing. What was inside? Oh, Champagne lobster of course. Yep - Travis Kamiyama knocks it out of the park each and every time. (below)
Ponzu Salad: A harmonious blend of fresh, crisp ingredients rounded out this meal. Easily one of the best ponzu flavoured dishes I've ever had. His sense of flavour combinations and creative mind is a testament to his genius. (below)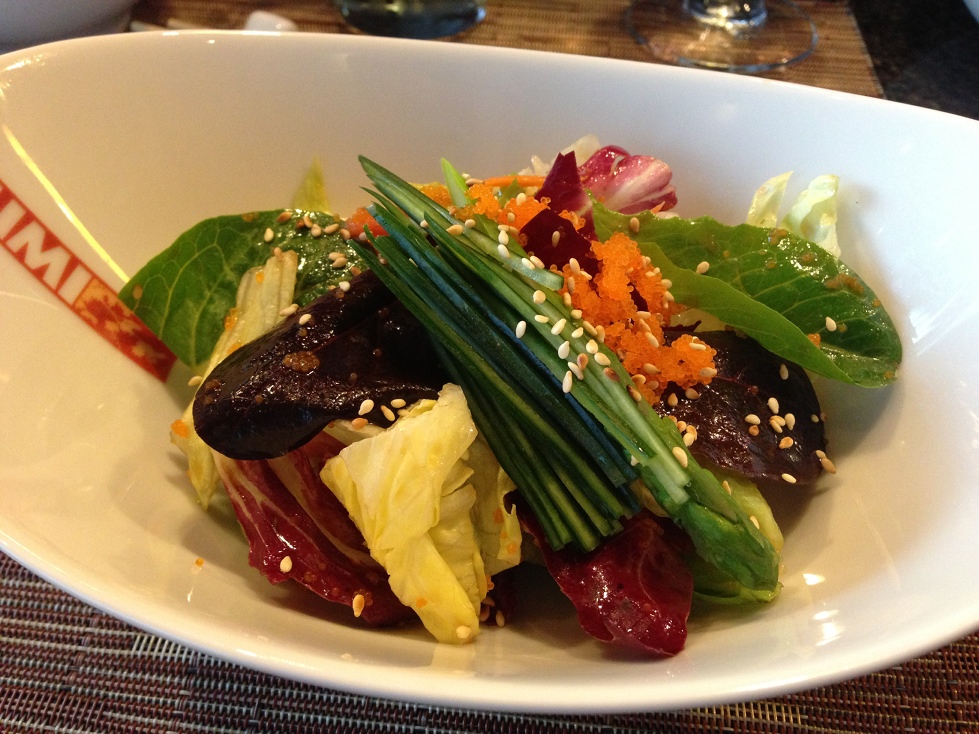 A little background on Travis Kamiyama:
Training at the age of 14 (Chef Tada and Chef Jiro).
1998 Sous Chef – Wasabi at CityWalk, Universal Studios, CA.
2000 Principal/Chef - Opened Kamiyama Lomita, CA.
2003 Principal/Chef -Opened Kamiyama Manhattan Beach, CA.
2004 Exec Sushi Chef - Market West Nishi Sushi at the Hollywood Bowl (Patina Restaurant Group)
2005 Producer - Genesis by Kamiyama, Osaka, Japan.
2006  Partner - Kamiyama MB (5 locations with Market Broiler).
2008 Exec Sushi Chef – Kress Hollywood.
2009 Culinary Consultant – Izumi on Oasis of the Seas (Royal Caribbean Int'l).
2010 Culinary Consultant – Izumi on Allure of the Seas (Royal Caribbean Int'l).
2011 Culinary Consultant – Izumi on Radiance of the Seas (Royal Caribbean Int'l).
"His ability to focus on anything from a single unique concept to a multi-unit game plan with a proven business sense allows clients to rest assured that their investment into their venture or restaurant renovation program will be a sound one. He can creatively create a menu to serve your culinary needs. In addition to his expertise in concept development, Kamiyama brands and creates recipes for manufacturers and commercial kitchens. He designs and creates recipes as a research and development chef. He is a key developer and marketer of Japanese food products and menus that are tailored and translated with a creative twist for the American palate and trend." He currently serves many large corporate customers including:
American Honda
The LA Dodgers thru Levy Restaurants
Toyota Motor Corp
Japan Airlines
And many more
For any aspiring sushi chef, watching Travis execute his skills behind the counter is truly inspiring. Keep your eye on this guy, he has a lot more up his sleeves.
---
Thank You Travis, it was a real pleasure - Kanpai! https://kamiya.io/