Jogasaki Sushi Burrito Truck Interview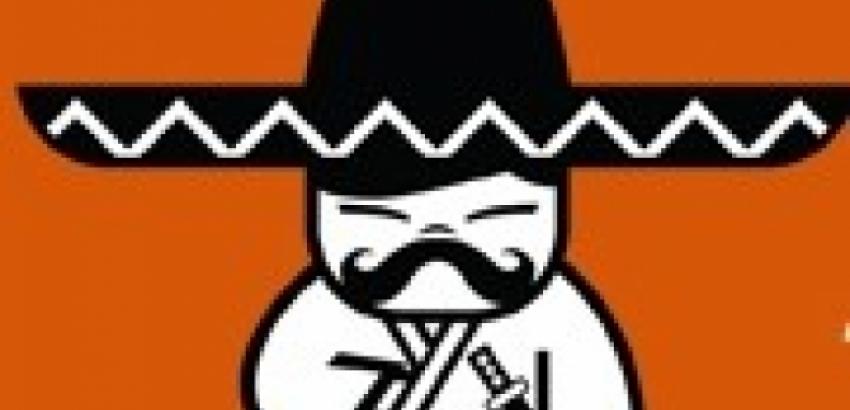 1. Tell us a bit about yourself. Were you a sushi chef in your past?
Yes I've actually been working as a sushi chef for a little over 17 years now. I started working at a hotel in my country of Indonesia where they have a pretty heavy Japanese clientele. Back then, in my country most locals did not know about sushi. So the hotel management had to import chefs straight from Japan and I was lucky enough to be able to study under Toda San.
I've spent about 3 years there and had the opportunity to work abroad in Singapore and also in Thailand. I came to Los Angeles in 2002, and since then, been blessed with the privileges to be able to study more of today's 'American sushi style'.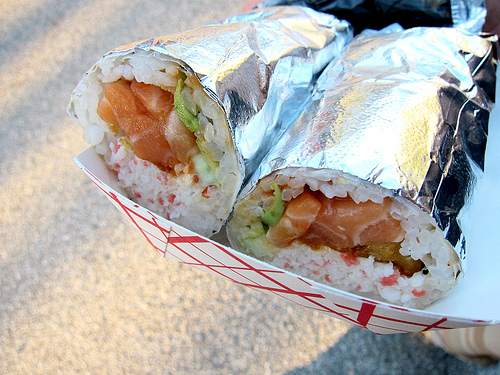 Jogasaki Truck Spicy Salmon Sushi Burrito. Flickr@punctuated
  2. How did you come up with the idea of combining sushi with a burrito?
Well I have to tell you, it's all thanks to my customers who always gave me lots of inspirations to come up with a new variety of 'special' every time. Los Angeles has a great culinary culture because of its diversity, so I always feel lucky that I can eat many varieties of foods from all over the world in one place. All of these have become my sources of inspiration and sushi burrito is one of the results. It was actually a fairly simple idea at first.  Many of my customers love to eat a good sushi roll, but they always remained somewhat unsatisfied with only one roll.  So they would always ask for more. So I started to think of a way to make a bigger size Maki Zushi. Obviously, Uramaki style won't cut it anymore, let alone Hoso-Maki. So the only option left is to make Futomaki, but I still had a different idea of how my customers should enjoy this big size roll. I just wanted them to be able to enjoy eating it like a Temaki (handroll). The problem is that Temaki was meant to be enjoyed while the Nori still has that fresh crispy texture and that wouldn't work if you ate the Futomaki that way. So I started to use soy wrap (Mamenori) because of its thin texture, the faint taste of soy beans, and that melt in your mouth factor. It's also an attractive option in the U.S., as customers are more health-conscious given that soy bean is a healthy food choice. Best of all, you will be able to enjoy this roll by getting a big bite out of it without worrying about having too much of that chewy like seaweed texture in your mouth. When I first presented this roll, people were surprise by its size and they always said, "it's like a Burrito!" So that's how I ended up with the Sushi Burrito.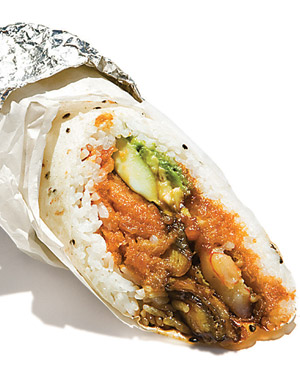 @Evan George, lamag.com
 3. What made you pursue this venture?
I was running my own restaurant in the South Bay area as a minority partner back in 2010, and during that time, I started seeing the food truck phenomenon and it was popping up everywhere.  This fascinated me. As all of us know, "Kogi", is the pioneer of this phenomenon where they serve Korean BBQ Taco. So I figure, why not give my sushi burrito a shot on the streets of LA!  And 'Here I Am!'
4. What are your top selling dishes?
We have a signature burrito called the Jogasaki #1 and #2, with options of tuna or salmon and shrimp tempura or BBQ Eel. We also have Lobster Burrito in which the main ingredient contains Norwegian Baby Lobster called Langostine/Langostino. For more details along with pictures you can visit our website.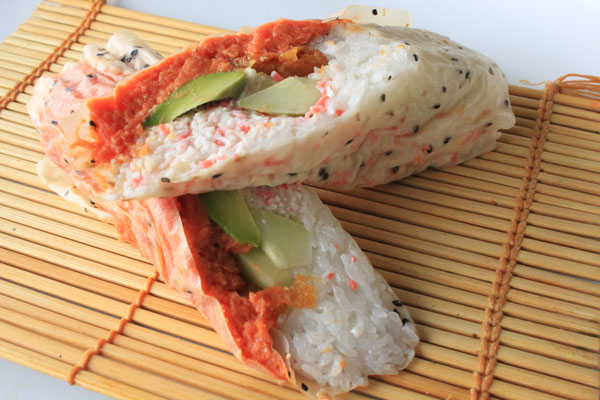 Jogasaki 2A : crab meat, spicy tuna, avocado, cucumber and shrimp tempura
5. How do you come up with new creations? What inspires you?
I always go back to the basic and go from there. While holding true to the root of Japanese cooking, I always like to pay attention to what my customers wants. They are always my true inspiration of creating new dishes. Again it's such a blessing that you can find almost every foreign ingredient right here in LA because of its diverse culture.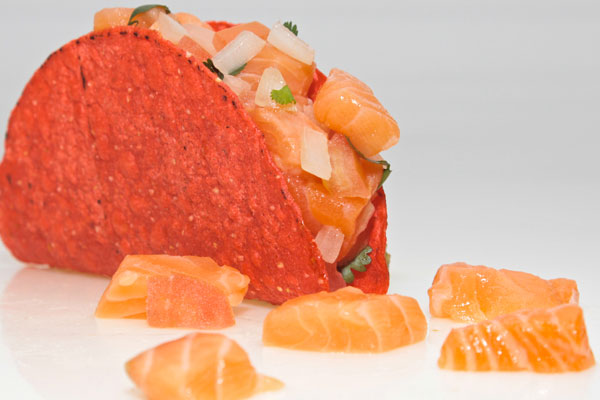 Salmon ceviche taco: salmon sashimi, pico de gallo & ponzu w/ yuzu dressing
6. Who are your customers?
Well what can I say? It's really for everybody out there who simply love good food and love to eat!  Our menu is diverse.  It has a healthy food option for people who are health-conscious.  It has the freshness from the ocean for the seafood lover. It has that vegan options for our vegetarian friends. It has tempura for those who love their food 'crispy fried'. And we serve Unagi(info) Kabayaki, for those who love the BBQ style. And on top of that, it has the size to satisfy your appetite!
7. How do you decide the next location of the truck?
Honestly this is the hardest part for every truck owner. When I first started we felt like we were gambling every day to determine where to go. If you can't find a spot, it would have resulted into a no selling day. If you do find a spot, you'll never know whether that would be a good location for your truck or not. Understand that not every location will respond well to what you are serving. I considered myself very lucky that we are able to survive the first 2 trial years where the majority of our customers who tried our food have responded very well.  The response has been overwhelming that we received many requests to come to a variety of locations near our customers. Since we have both LA county and Orange County permits, we covered a pretty wide range of area from the San Fernando Valley, South Bay, West LA, Santa Monica, Burbank, Pasadena, Costa Mesa to Irvine and other places in OC. Occasionally we would go to Oxnard Ventura County, Inland Empire San Bernardino County or Las Vegas for special permitted events. Jogasaki Sushi Burrito's Schedule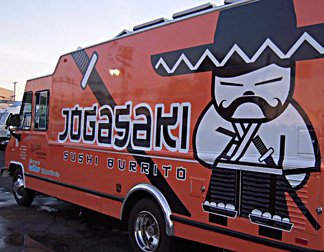 8. How many trucks are on the road? Any plans for expansion?
We have only 1 truck at the moment. We are planning either to expand to a second truck or to our first brick and mortar.
9. What's your favorite Japanese restaurant?
Foo Foo Tei (Hacienda Heights),  Asa Ramen (Torrance),  Shinsen Gumi Hakata Ramen,  Nara Sushi (Chino Hills), Sushi Gen (Little Tokyo),  and Sushi Bei (Torrance).  Also hopefully in the future, be able to make a reservation at Sukiyabashi Jiro (Ginza) and after, enjoy my ramen just off the street by the alley! :)
10. What's your favorite Japanese food?
Ramen! (I sound like Uzumaki Naruto, HaHa). Of course I also like Nigiri Zushi, Yakisoba, Chahan, Ika Geso Age and Natto. I like Senbe too, but I guess that's what we called snacks lol.  
Yo Pratioto
Jogasaki Sushi Burrito
Twitter: JogasakiBurrito
Facebook: Jogasaki SushiBurrito http://www.jogasakiburrito.com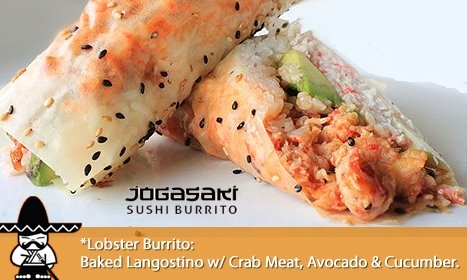 Baked Langostino Burrito