Iron Chefs Hiroyuki Sakai & Masaharu Morimoto
Perhaps two of the most recognizable Iron Chefs are Hiroyuki Sakai and Morimoto.  We've all seen them perform on the original Iron Chef Japan, but how do Hiroyuki Sakai and Morimoto stack up next to each other?  Let's find out!
Hiroyuki Sakai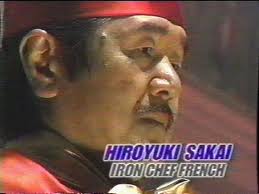 Bio:  Born in April 2, 1942, smooth ladies' man and master chef, Hiroyuki Sakai is known as much for his red French chef's costume as his winning cooking style on Iron Chef.  First appearing in 1994 on the show and then for the next 9 seasons, Sakai made his impact on the show with many memorable battles and his friendly personality and super smooth attitude.
Record: 70-15-1
Restaurants: Owner and head chef of the restaurant La Rochelle; will open Sakai of Hawaii in Waikiki in summer 2012.
Style: French Cuisine
Accomplishments: Third best winning percentage; crowned "King of Iron Chefs"; defeated Alain Passard, the top chef in the world, in the Long-Gang chicken battle during the Grand Finale of Iron Chef; Named France's Chevalier in the Ordre National du Mérite Agricole; Japan's Gendai no Meiko (Contemporary Master Craftsmen) award.
Morimoto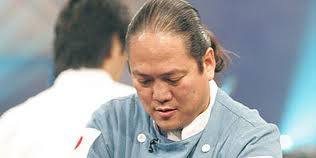 Bio: Born Masaharu Morimoto on May 26, 1955 in Hiroshima, Japan, the Iron Chef best known as just "Morimoto" is best known for his unique food presentations.  Trained in Kaiseki cuisine and practical Sushi; Morimoto in NYC; becoming the head chef of Nobu and executive chef of the Sony Club at a tender, young age.
Record: Iron Chef: 16-7-1; Iron Chef America: 22-12-1; Total: 38-19-2
Restaurants: Morimoto restaurants in NYC, Philadelphia, Florida, Napa Valley, Hawaii, Mumbai and New Delhi; Morimoto XEX in Tokyo.
Style: Japanese
Accomplishments: Received Michelin Star for Tokyo Restaurant; own line of specialty beers; appeared in Hawaii Five-0; published award-winning cookbook, Morimoto: The Art of New Japanese Cooking. Knife partnership with Zwilling J.A. Henckels.