Sparkling Flower: Hana Awaka Sake
With the popularity of Sake growing, many different types of Sake from different parts of Japan have been hitting the global market.  There are supposedly over 2000 sake breweries in Japan and at one point, there were over 30,000 in its ancient past.  Heavy tax laws were the main reason for the decline of breweries. 
Today with the popularity of sweet and mixed fruity liquor such as martinis, Sake is creeping up behind with its Sparkling version - "Happo-shu" in Japanese.  This is probably a surprise to many, but they are a quite a few on the market.  Similar to Champagne, the process of giving it sparkles or bubbles is from its 2nd second fermentation.
One popular Sake in the West is Hana Awaka Sparkling Sake, a type of Junmai brewed made from koji rice.  Translated to English it means "Sparkling Flower".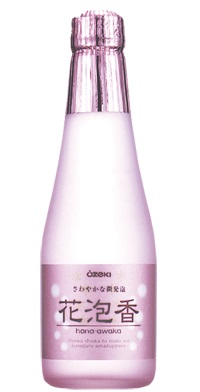 This sake is light at 7% alcohol and comes in a pink bottle and cost around 8 -10 USD.  It is pretty sweet with a slight tart, acidic, apple and nutty taste.  Many have describe it being refreshing and easy to drink.  It makes a great patio drink on a hot summer day.  The aroma is of typical sake along with a sweet smell.  Overall, it does taste like a light mellow champagne.
It is recommended to have it during dessert or with strawberries as it is the go-to fruit that complements this sake very well.   It is a good starter for those who haven't had sake before. 
You may find this brand and a few other Sparkling sake at your nearest liquor mart, but if you want more choices then online is your best bet. 
Served chilled.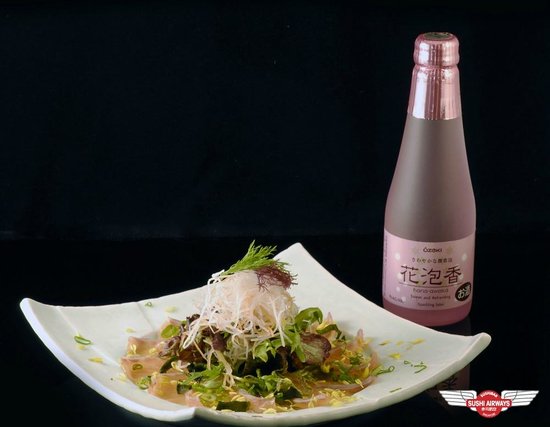 This photo of Sushi Airways is courtesy of TripAdvisor - Hana Awaka Sake
Nutrition Facts @ 250 ml
Calories 210
Total Carbs 13g