The Different Japanese Style Rice Cookers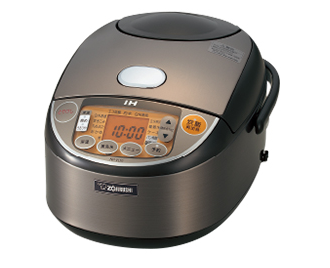 Are you thinking about buying a rice cooker? Daunted by the number of "rice cooker" results in Amazon? With all kinds of brands such as Zojirushi, Tiger, Panasonic, Toshiba, Hitachi and Mitsubishi and with a wide range of prices, choosing a rice cooker may seem confusing but don't give up! We'll break it down for you.
Electrical Rice Cookers with Removable Lids
While more common in other countries, this kind is not available in Japan anymore. This is the old type with a removable lid, a single "cook" button and maybe even another button to keep the rice warm. This kind is very inexpensive, costing up to $50, and will do the job if you only cook rice once a month or so.  The problem with this type is that the rice at the bottom burns easily, and you may need to watch it to turn it off manually. The point of having a rice cooker is to take the guesswork out of cooking rice so you may be better off with the newer types.
—->>Click Here to See Pricing, Ratings and Reviews on Amazon.com <<--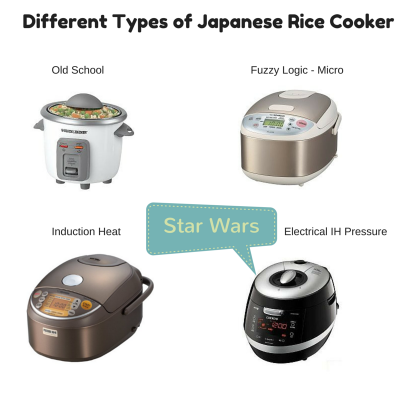 Electrical Rice Cookers with Micro Controllers ("Micon" or "Fuzzy Logic" Rice Cookers)
This is the cheapest, most basic kind of rice cooker available in Japan. You can easily determine the amount of water needed - there are numbered water level lines in the inner pot that correspond to the number of cups of rice that you put in. This type also has "cook" and "warm" functions, and a timer so you can put the rice in at night and have fluffy rice in the morning.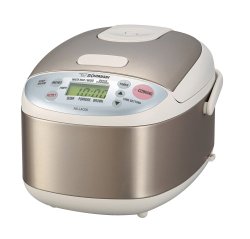 —->>Click Here to See Pricing, Ratings and Reviews on Amazon.com <<--
You can also cook watery rice porridge in these - there are water level lines for this too. Costing $50 and above, these are popular with budget-conscious buyers. One disadvantage though is the capacity of this kind is low, with a maximum yield of 3 or 5 servings. Also, only the bottom of the inner pot heats up so the rice, while adequate, is not as fluffy as the rice cooked in IH rice cookers (more on these below) hence the cheaper price.
Electrical IH (Induction Heat) Rice Cookers
This is the most popular kind of rice cooker in Japan today. It has all of the functions of "Micon" rice cookers, but in an IH rice cooker, the whole inner pot heats up. The heat is also stronger, resulting in the fluffiest rice imaginable. Prices start at $100 for the most basic kind for 5 cups, and can go as high in the thousands of dollars.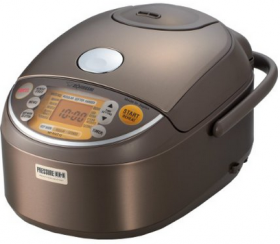 —->>Click Here to See Pricing, Ratings and Reviews on Amazon.com <<--
Electrical IH Pressure Rice Cookers
This type combines IH technology and pressure that results in faster cooking times, making this kind the most efficient among electrical rice cookers. It is also usually the most expensive.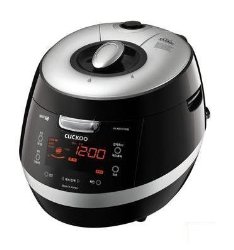 —->>Click Here to See Pricing, Ratings and Reviews on Amazon.com <<--
Other Factors
When buying a rice cooker, you can choose one that doesn't emit steam while cooking. This is important if you will put the rice cooker on a shelf or any place with something above the rice cooker. The inner pots are also either thick, multi-layered or vacuum-type pots. Thick ones are 2.3 mm or more and have high latent heat properties. Multi-layered ones have bronze or "diamond" coatings that conduct heat very well. Vacuum-type pots seal in most of the heat, making the rice cooker more efficient.
Old School Rice Cooker
おばーちゃんちで超絶レトロな家電を発見っ!

【National SD-1801】電気餅つき機

現パナソニック:40年近く前の製品だそうですがちゃ〜んと動いてますw
お餅の他にも画像のようにお赤飯とか作れますw しゅごい! pic.twitter.com/kEXd5NhubB

— はこ (@KHN723) February 6, 2016
How to make Japanese Rice in a Rice Cooker
Use the enclosed cup to measure uncooked rice. One cup of uncooked rice usually serves one adult. Put the rice in the inner pot and wash the rice well until the washing water is almost clear. (You will need to change the washing water a few times). When the rice is washed and drained, put water up until the water level line that corresponds to the number of cups of uncooked rice that you put in. Press the "cook" button and check the indicator to tell you when the rice is done.