Mochi Pounding At Lightning Speed! Don't Blink!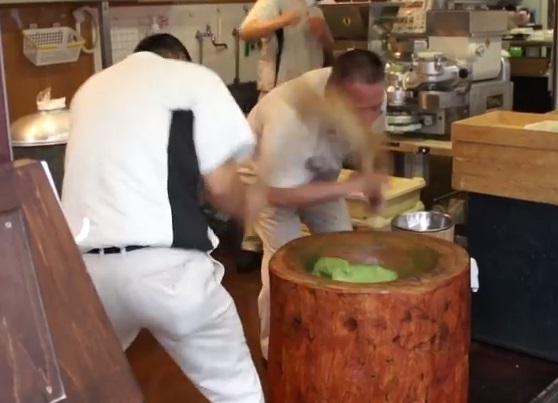 A new fun video has just surfaced from Japan from the town of Nara.  It shows two guys working together pounding Mochi as fast as they can. It is amazing how these two Japanese mochi experts work in unison especially at the tremendous speed they are moving at, without injuring each other.
An older video back in 2006 demonstrate again two different guys, pounding Mochi at a slower speed. As you can see, different techniques differ between masters in order to get a consistency that they prefer.
If you don't know what Mochi is, it's basically a rice cake.  It is made by using sweet rice that has been soaked during the night.  It is then steamed until the dough gets to a soft consistency.  From there it is pounded.   
Mochi is a very popular snack in Japan and is formed into different shapes such as rectangle, ball-shaped and other cool geometric shapes. They also have fillings in them, that is, sweet feelings of course! This makes them a popular snack amongst children. 
You can also get them in pre-packages in stores all across Japan as well as some asian stores in North America and Europe. 
But beware the consistency of these Mochi's as they are very gummy and is not recommended for very young children and the elderly. So supervision is required.
The pounding of the Mochi is probably the single biggest event during New Year's eve, where it is eaten at midnight.  It is believe to give great strength for the new upcoming year. Visit our article on this specialty Japanese dessert snack in further detail.