Star Wars Dipping Units To Go With Your Chopsticks Light Saber?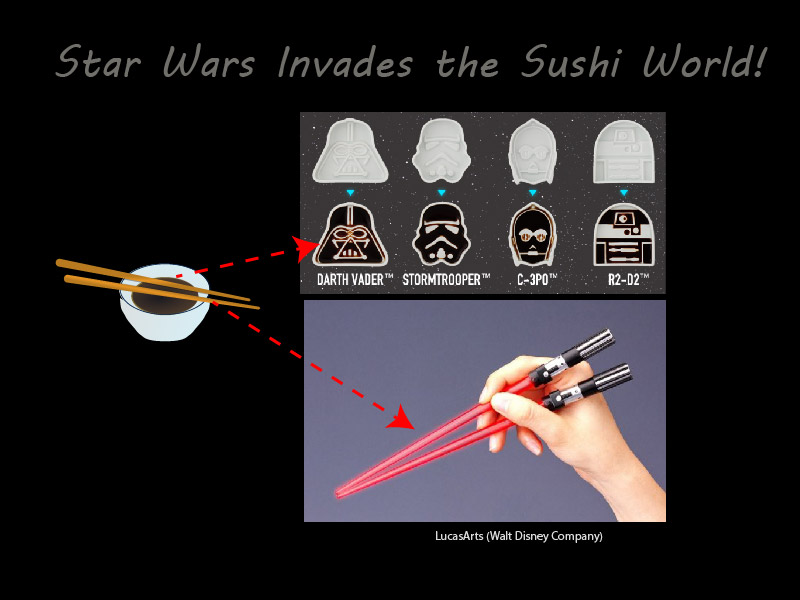 Each time you go for sushi you rarely think about the actual dishes that are used to serve your food, except if you order one of those big giant sushi boats.  What we are focusing on are those small dish units that are used for your soy sauce.  If you think about it, if you visited many different types Japanese restaurants in the past, you probably noticed that the serving dish for the soy sauce has always a different look to it.  Different shapes, different sizes, different color and different design.  Also let's not forget that they come in different material such as ceramic, plastic, porcelain and many other materials.
Recently though, Lucas Arts has joined in the sushi world once again by introducing their Star Wars theme sushi sauce dishes (lets not forget about the lightsaber chopsticks).  The news comes from geek.com who introduce the new products.  They come in four different types of Star Wars characters.
1. Darth Vader
2. A Stormtrooper
3. C-3P0
4. R2-D2
Cost?
All four of these Star Wars unit comes as a set for $100 online.  You are probably thinking why they are a bit expensive, well probably because it is Star Wars.  The main reason is probably because they are made out of a material called Arita porcelain. 
Arita porcelain
We are not sure who the exact makers are, and if we do find out will update this article.  But based on our research, there is a company called the Arita Porcelain Lab located in the same area of Japan where Arita porcelain is popularized.  This company is the modern luxurious brand of a famous one from 200 years ago called Yazaemon Kiln.  Each porcelain piece are made by the Company skilled artisans, all handmade.  They follow the techniques that were inherited from two centuries ago and have evolved since then where the company has perfected many of the styles in order to meet modern needs.