Make Your Own Tonkatsu - Pork Cutlet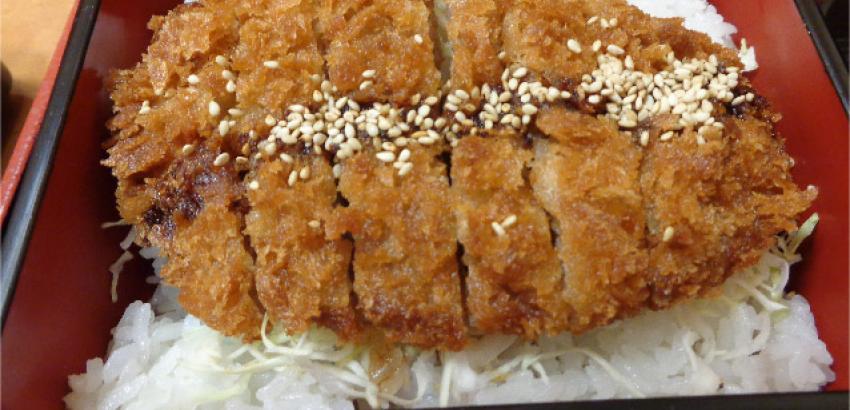 Tonkatsu is a famous pork cutlet that has a crispy texture on the outside and the juicy goodness of the meat on the inside. It is often compared to furai which has a similiar cooking technique but uses different meats.
Version 1 - Classic using Bread Crumbs
The ingredients needed are the following
First, take your pork chops and season with salt and pepper on both sides. Then cover it with plastic wrap and softly pound it out until it gets relatively thin.
Then pour out some flour on a plate or something flat. Then beat a couple of eggs in another plate-like object, but one that has more of a dip, so it's easier to dip something in the eggs. Also, lay out bread crumbs on similar plates. 
Now, heat up some cooking oil in a wok, and while it's heating, take your sitting pork chops, cover it in flour, then dip it in the eggs, and finally cover it with bread crumbs. Once you have done that, drop it into the wok and cook until both sides are golden brown.
Once that is done, take your cabbage and finely shred it and serve it next to your tonkatsu. You can serve the meat cut up and then add sauce on top (tonkatsu store bought sauce).
Version 2 - Marinade and using Corn Flour
A quick and simple dish for you and your family using corn flour (not using breadcrumbs)
Ingredients Cooking time: 6 minutes Serving Size: 5 pax
5 pieces of lean pork
5 tablespoons of corn floor
2 eggs
1 pack of sesame seed (white)
1 1/2 tablespoons of soy sauce
1/4 teaspoon of salt (depend on individual preference)
1/2 teaspoon of pepper (depend on individual preference)
Preparation
Prepare the marinade by soy sauce, pepper and salt together with the pork chops. Put it in the refrigerator for at least 1 hour.
Mix the egg and corn flour in a mixing bowl. Mix it well.
Dip the pork chop in the mixture.
Roll the pork chop onto the sesame (Both side). Press slightly.
Fry the porks in heated oil (medium heat) until it turns brown. (make sure oil is hot)
Fry each side about 3 minutes.
Take out the porks and put them on a paper towel to drain the oil. 8. Slice porks into smaller pieces. Now, teach your friends how to make tonkatsu today!