Recipe: Goma-ae (japanese Spinach Salad With Sesame Dressing)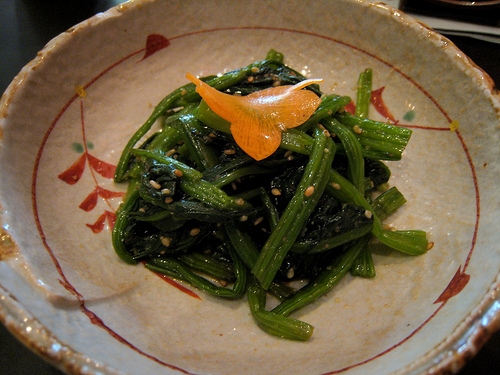 If you're a fan of Japanese food, you've likely had the pleasure of eating this delicious spinach salad with sesame dressing, or "Horenso no goma-ae" as it's known in Japanese.
What you'll need...
5  1/4 ounces (150 g) of fresh spinach.
1/2 tsp of light soy sauce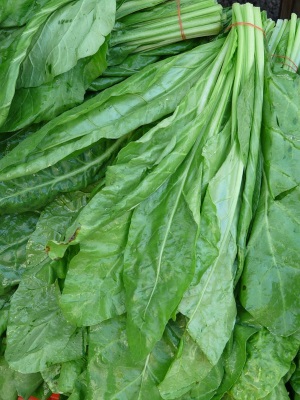 For the sesame dressing, you'll need...
4 Tbsp of white sesame seeds
1 Tbsp of sugar
1 Tbsp of sake
1/2 Tbsp of soy sauce
Let's begin...
1. Cut the roots/stems off the spinach and wash in water
2. Split your spinach into two bunches and parboil each in ample water with a dash of salt.
3. Almost immediately after immersing the spinach in the boiling water, turn the bunches over with a pair of chopsticks and transfer them from the boiling water to ice cold water to stop the cooking process and retain the colour - you do not want to over cook the spinach.
4. Squeeze out the water from the spinach and gently drizzle them with some light soy sauce. Let the bunches sit for around 10 mins.
5. Cut your bunches into 3/4" (2 cm) lengths and squeeze out any remaining water. If you cut your lengths any longer than 3/4", the texture of this dish will be stringy and difficult to eat.
Now for the dressing...
1. Toast the sesame seeds in a small pan over low heat. Make sure you continually move the pan so the seeds don't burn. Toast the seeds until you can crush them between your fingers. Pay attention not to burn the seeds!
2. Using a mortar and pestle, grind the toasted sesame seeds with a circular stirring motion until you see oil exuding from the crushed seeds. Add the seasonings (see above) one at a time. Mix until you have a smooth consistency.
3. Add the spinach to your mixture and toss gently until the spinach is well dressed. Serve this dish chilled or at room-temperature. Garnish by sprinkling extra sesame seeds over the top.
Oishii!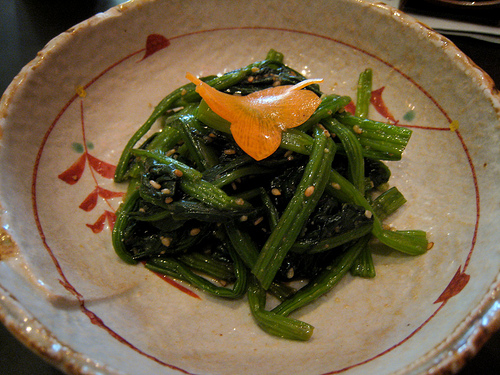 by Charles Haynes Goma Ae